http://www.euyansang.com.my/en_MY/gold-label-bak-foong-extract-capsules-2boxes-500100000121.html
Gold Label Bak Foong Extract Capsules 2 boxes
What's Inside
Products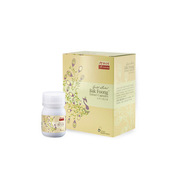 Additional Information
DETAILS

INGREDIENTS

HOW TO USE
DETAILS

Gold Label Bak Foong Pill is prepared using choice Chinese ginseng, deer antlers and selected Chinese herbs. Ginseng improves energy levels, and taken regularly, can help keep the body vital and strong.

MAL14065002T

INGREDIENTS

Rhizoma Attractylodes macrocephala, Rhizoma Ligusticum Chuanxiong, Herba Lycopus lucidus, Radix Ophiopogon japonicus, Rhizoma Curcuma aeruginosa, Radix Polygala tenuifolia, Poria cocos, Folium Artemisia argyi, Rhizoma Cyperus rotundus, Fructus Amomum villosum, Herba Leonurus japonicus, Rhizoma Atractylodes lancea, Radix Angelica sinensis, Radix Paeonia lactiflora, Fructus Ligustrum Lucidum, Radix Scutellaria baicalensis, Radix Astragalus membranaceus, Cortex Eucommia ulmoides, Radix Panax ginseng, Cornu Cervi pantotrichum, Semen Linum usitatissimum, Cortex Cinnamomum cassia, Mel.

HOW TO USE

2 Capsules twice daily, to be taken before meal in the morning and at night.
Recommended Reads