http://www.euyansang.com.my/en_MY/qi-zi-wang-%28chinese-wolfbarries%29-500100000005.html
Qi Zi Wang Chinese Wolfberries 300gm
What's Inside
Products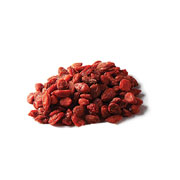 200700010121
This item is currently not available.
More Info
Additional Information
DETAILS

Common and botanical names: Chinese wolfberries, Gou qi zi

Renowned geo-specific habitat: Zhongning in Ningxia Province

Common processing techniques:

To allow wolfberries ( gou qi zi) to last longer and improve the kidney nourishing properties, stir-fry them with salt until they expand a little , then sieve off the salt.

To enhance the functions of wolfberries (gou qi zi), especially for improving eyesight, stir-fry the berries with cuscuta seeds ( tu si zi) until they expand a little, then sieve off the cuscuta seeds.

HOW TO USE

Simple and effective combinations (for 2-3 persons):

For poor eyesight, disturbed sleep and mild dizziness, use wolfberries ( Gou qi zi) (30g), chrysanthemum flowers (ju hua) (30g) and dried longan fruit (long yan) (10g) to be placed in a teapot and steep for at least 15minutes. Take it as an after-meal tea, at least twice a week.

For replenishing blood due to weakness, surgery or after menstruation, use wolf berries ( gou qi zi ) (20g), angelica danggui root (dang gui)(10g),Solomon's seal (yu zhu)(30g) and codonopsis root( dang shen) (40g) to simmer with one bloack-bone chicken for 2hours to make savory pot of soup.

Advanced and modern applications:

Powdered and dried wolfberries have been used to treat chronic gastric ulcers, 10g each time, twice a day, on an empty stomach before meals. Result should be expected after 2 months.

It has been shown that 30g of wolfberries daily, either taken directly as breakfast snacks or steeped as tea can lower cholesterol and help in weight management programs. Cholesterol levels should be tested after 4 months.
Recommended Reads