选择类别
Everyone's love for their mothers is unconditional, just like how mothers love their children. It is time to think of mommy dearest again, the one who always scolds and rejects whenever you buy her something. But, she is actually happy deep down inside as she knows it is a symbol of love.
The struggle of finding the perfect Mother's Day gift is real. Picking a gift for mom is NOT the same as picking a gift for your best friend or girlfriend! It has to be affordable, use-friendly and nice (the Cantonese saying," Peng, Leng, Jeng!")! Save the ringgits up as we have some of the best recommendations that you can definitely carry out!
1. Home Spa Day
You do not have to keep googling on which beauty parlour to bring mommy to! Make her feel special at home! Give her a homemade spa day as a special thanks for her dedication and contribution to home for so many years. We suggest this homemade Rose Scented DIY Body Scrub. Essential oils are a hit these days, pairing up with dried rose petals make the home spa day a perfect one!
Here's how:
Rose Scented DIY Body Scrub
What You Need:
3/4 cup of White Sugar

2 tablespoons of Coconut Oil – melted (unrefined will have a light coconut scent)

2 tablespoons of Grape Seed Oil

2 teaspoons of Crushed Dried Rose Petals (optional)

5-10 Drops Rose Essential Oil – to desired aroma
Here's How:
Mix sugar & oils together with fork/spoon.

Add dried rose petals & mix gently.

Pour mixture into a glass jar and store in cool dry place.
Source: http://wonkywonderful.com/rose-scented-diy-body-scrub/
2. Be the Chef of the Week
Give mommy dearest a break from the kitchen! It is time to utilise your chef instinct and prepare simple yet healthy meals for the entire week! Plan some meals that can be stored and placed in the freezer for other days. For that exquisite taste bud of mom's, we highly recommend this Rosemary Steamed Chicken with Herbs as this tonifies Qiand warms the body, quite a nourishing dish for Mommy!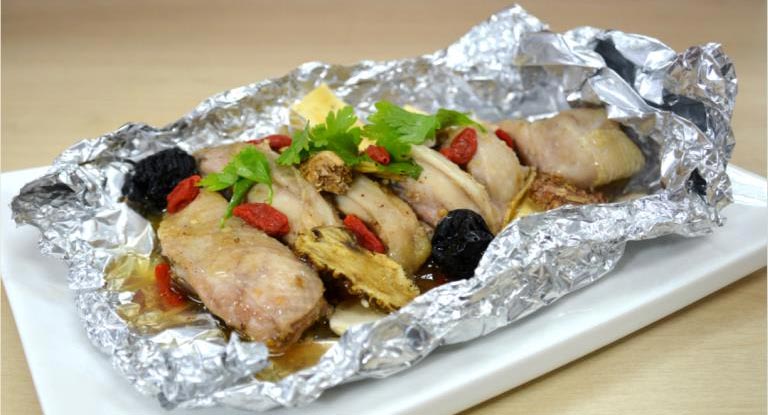 What You Need:
1 big chicken drumstick

2 tablespoons of Rosemary Seasoning Mix

1 ginger

Aluminium Foil
Condiments:
4 tablespoons of Ginger wine

Some goji berries

Some spring onion/scallions
Garnish:
Dang Gui

black dates

astragalus

Chinese yam
Here's How:
Marinade the chicken thighs with Rosemary seasoning mix, set aside.

Steep the garnish (Dang gui, black dates, astragalus, Chinese yam) with hot water and slice the ginger.

Wrap the marinated chicken drumstick, ginger slices, garnish in the aluminium foil.

Steam at medium heat for 20 minutes until the chicken is cooked.

Pour some ginger wine and sprinkle goji berries and scallions. Serve!
Tips: Rosemary Seasoning Mix can be replaced with Herbal Chicken Seasoning Mix for a rather oriental taste!
3. Supply Mommy with loads of health products
Let's be frank. All ladies like to be praised despite their age. Pamper your mom with the nourishing properties of bird's nest as so mommy dearest can age gracefully. Bird's Nest can also be used to stimulate the appetite, improve digestion and stimulate bowel movement. Not sure how to boil the bird's nest you bought? Try this Double-boiled Bird's Nest Soup with Silky Chicken Dumpling and Ginseng for a marvellous meal!
Another health product not to be missed is royal jelly. It has numerous health benefits such as anti-ageing, hormone balancing, boosts immune system, anti-inflammation, promotes metabolism.
4. Shop with Her
Make Mother's Day her PAY DAY! Moms deserve to get pampered not only from the inside but the outside as well! It's the season to get her some nice dresses, jewellery (affordable ones!) and perhaps, a makeover! Stroll the city with a fresh look to let her know that her world is not limited to home only. If your mom loves to cook, spoil her with new kitchen appliances and healthy seasoning!
5. Breathe some fresh air
After a hearty breakfast, it's time to breathe some fresh air! Surprise her day with outdoor activities like hiking. There is no better way to explore the beautiful nature other than your family! Hiking is suitable as it is a great low-impact workout. You get to smell the freshness of air, work the body out and discover new places, flora and fauna! Of course, there may be hard times when either of you feel tired during hiking. Motivate each other and live the day with sweat and glory!
To all mothers who are reading this, Happy Mother's Day from Eu Yan Sang! To the children who are reading? Start surprising your mom today!