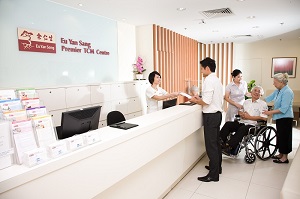 Medical Board
Established since 2005, the Medical Board (MB) comprises both Western-trained medical specialists and TCM physicians to provide a balanced view of integrative medicine. Members include healthcare professionals from various medical specialities as well as representation from the clinic management.
One of the MB's roles is overseeing standards of care in the development of TCM and Integrative Medicine clinical services for the Group and this includes the advisory on protocols for clinical documentation and clinical quality indicators. In the area of quality assurance, the MB advises on the quality and appropriateness of services provided, including clinic practices and clinic audits.
As for recruitment, the MB establishes the qualifications and experience required for prospective practitioners, and assists with interviews as well as endorsing their appointments. To ensure compliance and professionalism, the MB makes recommendations for the conduct and ethics of physicians.
Furthermore, the MB makes inquiries and investigates allegations of inappropriate conduct or practices when required.
The MB also recommends appropriate approaches to take when it comes to education and clinical research within the Group.
With these roles in mind, the MB meets at least once every quarter to elevate the clinical standards for the Group.
The MB consists of the following:
CHAIRMAN
Dr Khoo Kei Siong
Deputy Medical Director and Senior Consultant,
Medical Oncology, Parkway Cancer Centre
HEAD, REPRESENTING EYSIH
Ng Seow Ling
Managing Director
Eu Yan Sang Integrative Health Pte Ltd
MEDICAL SPECIALISTS
Dr Lau Tang Ching
Senior Consultant and Associate Professor,
Division of Rheumatology, University Medicine Cluster,
National University Hospital
Registered Acupuncturist
Dr Peter Loke Chi Wei
Managing Director & Family Physician, Mint Medical Centre
Partner, Resolvers Pte Ltd
Adjunct Senior Lecturer, Centre for Biomedical Ethics,
National University Hospital
Regional Medical Advisor, Syngenta Asia Pacific Pte Ltd
Principal Mediator, Singapore Mediation Centre
TCM PHYSICIANS
Zhong Xi Ming
Senior Physician
Eu Yan Sang Integrative Health Pte Ltd
Peng Ya Ling
Senior Physician
Eu Yan Sang Integrative Health Pte Ltd
SECRETARY
Chan Jing Wen
Registered TCM Physician
Senior Executive, Clinical Affairs & Education
Eu Yan Sang Integrative Health Pte Ltd