Essence of Chicken with Dang Gui & Shou Wu
Details
https://www.euyansang.com.my/en_MY/essence-of-chicken-with-dang-gui-and-shou-wu-955616010626.html
955616010626
- 70gm x 6 bottle(s)
Product Actions
• Promotes blood circulation.
• Regulates menstrual cycle.
• Enhances the function of liver and kidney.
• Combats ageing symptoms.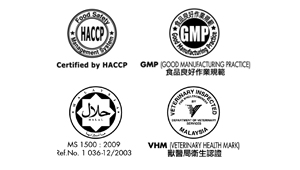 Additional Information
DETAILS

INGREDIENTS

HOW TO USE
DETAILS

Eu Yan Sang Essence of Chicken series products are made from only the freshest premium quality chicken using a sophisticated combination of traditional recipe and modern technology. It is rich in protein and amino acids.

Eu Yan Sang Essence of Chicken with Dang Gui and Show Wu is extracted from selected fresh premium graded chicken infused with the essence of traditional Chinese herbs Dang Gui and Shou Wu, using a signature combination of traditional methods and state-of-the-art technology. This product is suitable for ladies who experience menstrual cramps and mild anaemia.

INGREDIENTS

Essence of Chicken, Radix Angelicae Sinensis, Radix Polygonum Multiflorum, Phyllanthus Ussuriensis Rurp & Maxim, Radix Rehmanniae Preparata, Rhizoma Chuanxiong, Radix Codonopsis

HOW TO USE

Way to consume:

Shake well before consumption. Once opened, keep refrigerated and consume within 12 hours.

Keep in a cool and dry place.

Adolescent & Adults:

Take one bottle each time.