https://www.euyansang.com.my/en_MY/matured-american-ginseng-1200gm-500100000210.html
Matured American Ginseng 1200gm (pack with slices)
What's Inside
Products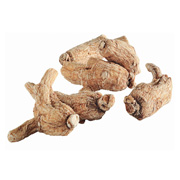 Additional Information
DETAILS

INGREDIENTS

HOW TO USE
DETAILS

These selected roots are harvested only when they are fully matured, which normally takes about 5 years. Matured American Ginseng roots are predominantly sweet taste.

INGREDIENTS

Matured American Ginseng Slices.

HOW TO USE

Method 1: 10g each time for adults. Double-boil for 2 hours with water.

Method 2: 10g each time with 10g of dried longans, 1 chicken drumstick & 1 bowl of boiled water. Double-boil for 3 hours.

Method 3: Use as preferred for various kinds of herbal soups.