https://www.euyansang.com.my/en_MY/pregnancy-nourishment-package-pure-chicken-essence-6boxes-500100000194.html
Pregnancy Nourishment Package - Pure Chicken Essence 8*60ml x 6 Boxes
What's Inside
Products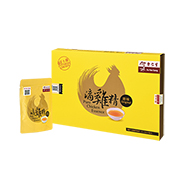 Additional Information
DETAILS

Eu Yan Sang Pure Chicken Essence is made from fresh chicken. Prepared within 30 minutes before stewing to maintain the original nutrients of fresh chicken from water loss during freezing and thawing. Chicken contains rich protein and 18 kinds of amino acids. According to Chinese medicine practitioners, chicken can tonify qi, replenish health, strengthen immunity and increase physical strength. This health supplement also helps enhance concentration, eliminate fatigue, tonify blood, maintain vitality and improve the quality of breast milk.

Prepare from fresh chicken to preserve its original nutrients.

Nice aroma, no frosty or gamy taste.

Over a long period of stewing, the essence of whole chicken dissolves into amino acid making it more easily absorbed by the digestive system.

Made with advanced manufacturing techniques, no refrigeration required.

No antibiotics, No growth hormones, No added salt, No added artificial colouring, fragrance and preservative.

Time and energy saving, suitable for busy lifestyle.

Easy to carry, sachet can be placed directly into boiling water or immersed in hot water.

What kind of chicken is used in Eu Yan Sang Pure Chicken Essence?
Eu Yan Sang Pure Chicken Essence is made from free range chicken bred in Taiwan of more than 12 months. Free range chicken with high activity, muscle is toned and therefore meat is succulent. No administered growth hormones or antibiotics, pass drug-free residue test and certified healthy by vet.

How is Eu Yang Sang Pure Chicken Essence made?

The product is made under high pressure with medium heat, oil separation and no steam reflux technology. No added water and stew for 8 hours. Freshly prepare the chicken within 30 minutes before stewing to ensure freshness. No fat and cholesterol.

---

One person's consumption guarantees premium health for both generations


Strengthen Pregnant Women's Immunity
Strengthens pregnant women's immune system, fights against flu, transfers nutrients to the foetus through placenta to improve the foetus' immunity.

Fat-free, allows you to stay in shape with ease after pregnancy
Utilises cutting-edge technology to filter out grease and residue while retaining full nutrition, which brings zero burden to the body for absorption of nutrients.

Benefits foetal growth and development
During pregnancy, protein requirement increases to fulfill the needs of the pregnant mother and placenta, which is essential for the growth of the foetus. The amino acids in protein play an important role in foetal development.

Promotes foetal brain development
The growth of the foetus' brain cells is largely impacted by the nutrition supply from the mother.

Improves breast milk quality
All mothers must take note of their nutritional intake. When a mother follows a balanced diet and gains adequate nutrition, she will be able to produce high quality breast milk.