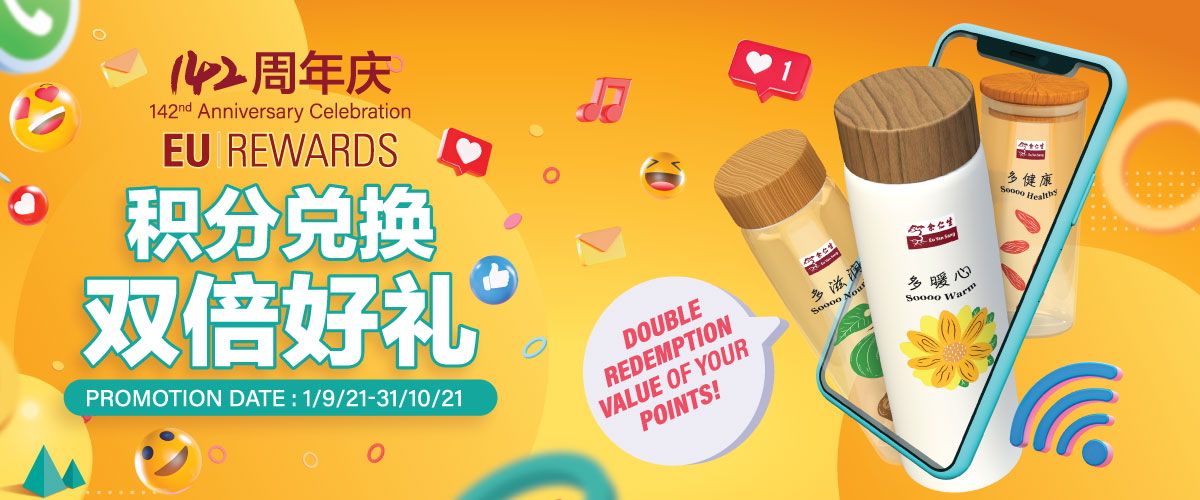 To view your accumulate points online, you must first link your EU REWARDS membership to your account.
In-store Points Redemption
1. You can choose to redeem at selected Eu Yan Sang outlets, click HERE to find your nearest store location.
Online Points Redemption - Redemption method:
Step 1: Log In to Eu Yan Sang website or click Here to link Your EU REWARDS membership to check your accumulated points.
Step 2: Click this Form to fill in your personal information, shipping address and select the gift.
Step 3: After submitting the form, you will need to pay RM8 shipping fee within 3 days after receiving a confirmation email, and we will proceed the delivery upon receiving your payment.
Online Points Redemption - Terms and conditions:
1. For Eu Yan Sang members only.
2. Only valid members with sufficient points are eligible for this point redemption.
3. While stocks last. Gifts are subject to stock availability. Eu Yan Sang reserves the right to substitute with other gifts of equivalent reward points without prior notice.
4. Delivery service only applicable for West Malaysia.
5. A shipping fee of RM8 will be charged for each redemption order.
6. Eu Yan Sang will check your Eu Rewards points and redemption stock within 3 working days (except Saturdays, Sundays and Public Holidays), after confirming your points redemption order, Eu Yan Sang will contact you via email on the shipping payment. Any unsuccessful redemption order will be notified to you via email.
7. Eu Rewards points will be deducted automatically after form submitted for each redemption. All Eu Rewards points will remain valid in the membership account until its expiration date.
8. Eu Yan Sang will deliver the points redemption item to the shipping address you provided within 5-7 working days (except Saturdays, Sundays and Public Holidays).
9. Point Redemption Period: 01/09/2021 – 31/10/2021
Shop 142nd Anniversary Point Redemption
Filter By