Essence of Chicken with American Ginseng & Shou Di
Details
https://www.euyansang.com.my/en_MY/essence-of-chicken-with-american-ginseng-and-shou-di-955616010625.html
955616010625
- 70gm x 6 bottle(s)
Product Actions
Cleanses the lung

Calming effect

Enriching blood

Relieve fatigue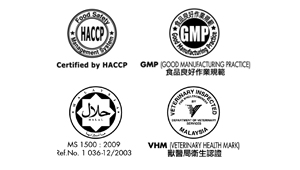 Additional Information
DETAILS

INGREDIENTS

HOW TO USE
DETAILS

Product Description:

Eu Yan Sang Essence of Chicken series products are made from only the freshest premium quality chicken using a sophisticated combination of traditional recipe and modern technology. It is rich in protein and amino acids.

Eu Yan Sang Essence of Chicken with American Ginseng & Shu Di is extracted from selected fresh premium graded chicken infused with the essence of traditional Chinese herbs American Ginseng & Shu Di, using a signature combination of traditional methods and state-of-the-art technology.

American Ginseng restores inner Chi, cleanses the lung while having a calming effect to the mind. Shu Di helps in enriching blood and relieve fatigue

Function:

Restores Qi and revitalizes the mind, relieves fatigue, nourishes the liver and kidney, improves eyesight, boosts stamina.

Suitable for:

Working adults, those who regularly face computer screen, those who are easily tired, individual with heaty body, stays up late, experiencing lack of sleep, patients recovering from illnesses and pregnant women in their fourth month onwards.

INGREDIENTS

Essence of Chicken, Radix Panacis Quinquefolii, Phyllanthus Ussuriensis Rurp & Maxim, Radix Rehmanniae Preparata, Fructus Lycii

HOW TO USE

Way to Consume:
Shake well before consumption. Once opened, keep refrigerated and consume within 12 hours.
Keep in a cool and dry place.


Adolescent & Adults:
Take one bottle each time.
Recommended Reads