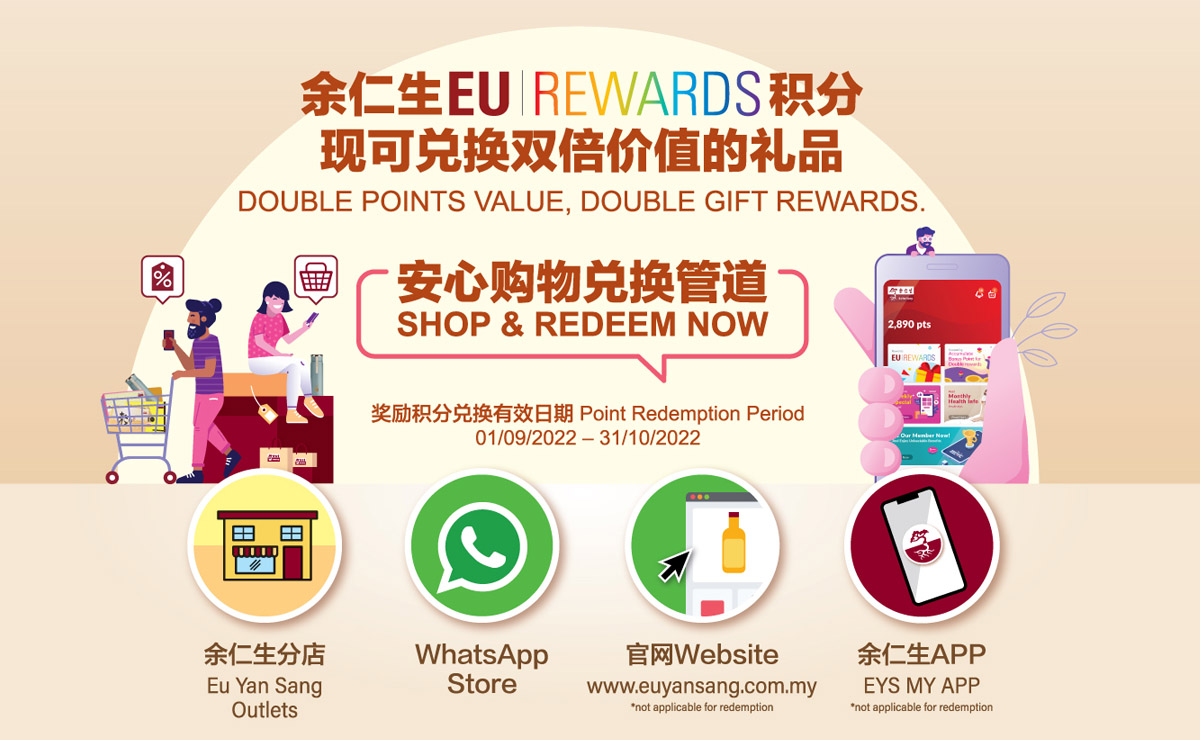 Point Redemption Terms & Conditions:

1. Participate Eu Rewards Point Redemption Programme with any purchase at selected Eu Yan Sang outlets or eStore in Malaysia.

2. Every Ringgit (MYR) spent at EYS outlets or eStore in Malaysia will be rewarded with one (1) Eu Rewards point. The minimum amount of reward points required to be eligible for redemption is 300 points.

3. EYS Eu Rewards membership card / NRIC/ Passport Number must be presented before each purchase payment to enjoy the special discount and to facilitate recording of sales transaction.

4. NO Eu Rewards points will be credited to Eu Rewards membership card for any transactions made at Health Cité TCM Centre, The Zun Kitchenette, and EYS authorised special outlet(s) in Malaysia.

5. Eu Rewards points earned are not exchangeable or redeemable for cash or other items, except for those stated in EYS Instant Redemption Programme.

6. Eu Rewards points earned are not-transferable and/or assignable to any other person(s).

7. Only valid members with sufficient points are eligible for Eu Yan Sang redemption programme.

8. Members can check their total points earned
i. based on receipts kept during collection period
ii. by visiting outlet
iii. by logging in to www.euyansang.com.my/checkpoint
9. Members are required to present their original Membership card / NRIC/ Passport to redeem the gift(s).

10. Gift redemption can be done at selected outlets. Kindly check the outlet list at Eu Yan Sang website www.euyansang.com.my/143rewards.

11. Eu Rewards members can check their points balance at any retails outlets in Malaysia, eStore, or call our Customer Careline at 1300-888-213.

12. Eu Rewards Points will not be awarded for the purchase/ or redemption of any Point Redemption product(s).

13. Redemption on product(s) or goods is subject to availability of stocks. In the event of non-availability or discontinuance of any product(s) or goods, Eu Yan Sang (1959) Sdn. Bhd. reserves the right to substitute an item with another brand/ product of equivalent monetary value.